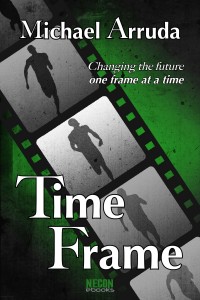 "TIME FRAME is one of those books that had me from the first scene. It begins when Papa, who has been dead for several years, knocks on the door of his adult grandson's house. Why he's there (and more importantly, how) opens up a whole plethora of questions and answers involving the future, time travel, and deadly conspiracies to keep certain mouths shut. Somehow, Arruda is able to put a fresh spin on the concept of time travel, and deliver a gripping book that will have you eagerly turning pages to see what happens next. There's also something about his style and characters that has a quality similar to comfort food. You're in for a treat with this one. TIME FRAME delivers."

— L.L. Soares, Bram Stoker Award-winning author of the novels LIFE RAGE, ROCK 'N' ROLL and HARD

"TIME FRAME, by Michael Arruda, serves up both a tender family drama and mind-bending time travel story. An earnest debut novel with a lot of heart and plenty of twists and turns."

— Daniel G Keohane, author of SOLOMON'S GRAVE

"Michael Arruda's TIME FRAME is the kind of science fiction novel I love – full of great characters and ideas. It speeds along at a frightening pace with complications and time conundrums hurled incessantly at our heroes. In this way, it hearkens back to those great tales from the golden age of science fiction, but with all the time travel, explosions, fires, and heady concepts, it is ultimately the story of the importance of family in our lives. What a great ride!"

— William D. Carl, author of THE SCHOOL THAT SCREAMED and BESTIAL.
Purchase via

or here